Welcome to Odonata Central
This citizen science web site site is focused on expanding our understanding of the distribution, biogeography, biodiversity, and identification of Odonata (dragonflies and damselflies) in the Western Hemisphere. We encourage you to contribute your observations and explore the observations of others in maps, lists of records and species lists.
Add Records
Browse Records
Add Photos
Easy way to add photos to a checklist. Especially helpful to Phone App users. Just click "Add Photos" on the home page, select your checklist and drag and drop!
Phone app available NOW!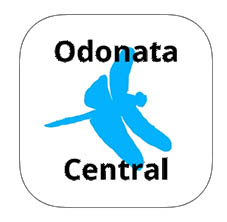 The Odonata Central phone app is a single function app that allows you to easily enter complete checklists into Odonata Central from your phone. Available for both IOS and Android and supporting English, Spanish, Portuguese and French.
Download from the Apple App Store
Download from the Google Play Store
Watch a 10 minute instructional video: Introduction to the Odonata Central Phone App
Odonata Central is Now Multilingual!
Due to the power of Google Translate, Odonata Central can now be viewed in 108 languages. Select "Translate" from the top menu to select your language of choice.
Dragonfly ID app for IOS and Android
Dragonfly ID features bar charts built from the OdonataCentral database of sightings, recent sightings submitted to OdonataCentral displayed on maps, crowd-sourced text, images and more. Status and distribution information for odonates in North America.
Download from the Apple App store or Google Play store. Learn more here.
(Note that this app allows you to view data from Odonata Central but does not yet allow you to enter observations into Odonata Central.)
Dragonfly Society of the Americas
The Dragonfly Society of the Americas (DSA) advances the discovery, conservation and knowledge of Odonata through observation, collection, research, publication and education.
DSA website